How to Care For Your Salt Crystal Lamp & Candleholders
Salt has hygroscopic properties, which means that it draws water from the surrounding atmosphere. Salt Crystal Lamps should therefore never be sprinkled with water, kept in a moist room or be placed outdoors. Sometimes, in particularly moist or humid conditions, the lamp surface may be slightly damp to the touch. Lighting it for a few hours dries it very quickly.
If crystallization occurs, just wiping with a damp cloth will get rid of it. For most everyday situations, this is not a concern. It is recommended that you light your lamp every day for the best air purifying results, and you can leave your lamps on for as long as possible. This will not only maintain a constant negative ionizing process, but also repel excess moisture build up around the lamp.
If you plan not to use the lamp for long periods of time, just put a plastic bag over the lamp to protect it from humidity.
How to clean your salt lamp:
Wipe the lamp with a damp (not soaking wet) towel or sponge in order to remove dust. Once cleaned, dry the lamp with a paper towel or turn on the lamp for a while.
If you choose to place a Salt Crystal Lamp on a wooden surface, please ensure that it has a waterproof base so that you do not damage your furniture.
Please use tea lights for candleholders.
Unique: GAMMA Quick-Change Light Bulb AssemblyTM
Bulb replacement instructions
Our lamps are CSA and UL tested and registered, for your safety
Warning: Please unplug the lamp before replacing the bulb.
When lamp is "on" it should not be grasped for lifting, carried or hold until completely cooled to room temperature.
Keep out of reach of children.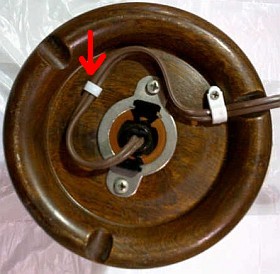 How to replace a bulb
Turn your lamp sideways. Pull the wire clip out. Squeeze gently the wings of the bulb holder, pull the bulb out, and replace the bulb. Squeeze gently the wings of the bulb holder. Insert it in to the hole at the base of the lamp. Be sure that it fits securely in to its place and insert the wire clip back.
Their Salt Crystal Lamps – Not Easy At All… Salt Crystal Lamps – Changing the light bulb in the competitions lamp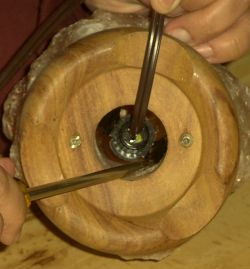 With the competitions salt lamps, you have to fumble around with a screwdriver or try to stick your fingers inside to get the bulb out.
Careful not to loosen the wires or break the light bulb!
We use the most common bulbs for your convenience; these bulbs can be purchase from any hardware store, Home Depot, Wall Marts or even Dollar Stores. All you need to know is that the bulbs are similar to the one used for Chandeliers. Commonly called Candelabra base or E12. Shape of the bulb does not matter; it could be skinny or fat, long, torpedo or short.
Appropriate Light Bulb Sizes:


7 watts for Mini or Small Lamps.
Same bulb as used in a night-light.


15 Watts for a Small or Medium Lamp
Torpedo style or Candelabra, Chandelier type.


25 watts, for Medium or Large lamps.
40 watts for x-large lamp.
Candelabra or Chandelier type.
Lamp Size and Room Size
Mini Salt Lamp
4-5 lbs, 5″-6″ tall are most suitable for night-light or for kids rooms.
Small Salt Lamp
6-8 lbs, 6″-8″ tall are most suitable for average bedroom, one on each night table
Medium Salt Lamp
9-11 lbs, 7″-9″ tall are most suitable for larger bedroom.
Large Salt Lamp
12-15 lbs, 9″-10″ tall are most suitable for small living and family room.
X-Large Salt Lamp
18-22 lbs, 10″- 12″ Tall are most suitable for living and family room.